Lynette Jennings Homeworks
Lynette Jennings is creator, executive producer and host of Lynette Jennings Design. Through 21 years of work in television, magazines and live performances, Lynette has become one of North America's best-loved and most trusted authorities on home decorating and design.After studying architecture and performing arts at the University of Michigan and Chicago's DePaul University, she relocated to Canada in 1971 and established a 30-member architectural, interior design and merchandising firm. The following year, Lynette began her writing career as editor of two of Canada's leading home publications.
Eventually she launched her own TV shows: Lynette Jennings Homeworks and Lynette Jennings Home. In 1994, she created and produced the Lynette Jennings HouseSmart series in partnership with Home Depot. Lynette is also the North American design and decor spokesperson for Home Depot. The next year, Lynette's TV and merchandising company, Spring River Production America, established offices in Atlanta to set up a production base for the Lynette Jennings series and to expand the enterprise by adding prime-time specials, an airline in-flight TV network and licensed products, including books, videos, a wallpaper line, area rugs and soft goods, Handmade-Décor crafts products and an Internet resource mall. Lynette is currently in her 11th broadcast season, producing a new series, Lynette Jennings Design.
Contact a speaker booking agent to check availability on Lynette Jennings and other top speakers and celebrities.
What's It Wednesday #110
This is an exciting time in our household. Our new house is almost finished being built, so needless to say I am neck high in boxes. As we prepare for the new house there are decorating and design decisions to be made...but of course. However (Here comes Paula's rant), these decisions have not been made easily because the good old decorating shows of yore no longer exist.
For me it all started as a kid with Steve Thomas (I liked him because he reminded me of John Boy and John Denver <don't ask>), Bob Vila, and Norm Abram.
Years later, when I got ready to move back to the United States from the Cayman Islands there were my buddies Susan Powell and Chris McWatt of Home Matters. OMG how I loved them so. As soon as I landed in the U.S. I ran to Home Depot and got paint and paint brushes. I was bit by the decorating bug.
Susan Powell and Chris McWatt -
Home Matters
Kitty Bartholomew
Lynette Jennings
Kitty was fun and exciting and Lynette was just plain magical.
Christopher Lowell
Christopher made me believe I could decorate any room my heart's desire. I still have all of his design books.
Debbie Travis
Don't you remember Debbie Travis' Painted House and Debbie Travis' Facelift?
Ok since we are going down memory lane in the middle of my rant, what about...
Decorating Cents - Joan Steffend
Room-by-Room - Matt & Shari
Ok confession, I was probably the only person on the planet that did not particularly like the show
Room-by-Room
, but I would give my eye-teeth to get that show back. We just don't have the variety of great decorating programs like we use to.
Designing for the Sexes - Michael Payne
Devine Design - Candice Olson
As far as I am concerned, once Devine Design went off the air it was down hill from there. In came the real estate shows. I am beyond sick of real estate shows (Not counting the Property Brothers of course).
Trading Spaces
Trading Spaces was Must-See-TV. Do you remember the marathons?
Dear Genevieve - Genevieve Gorder
Designer Guys - Steve & Chris
Does anyone other than me notice the amazing shows that came out of Canada...plus the gorgeous men (i.e. The Property Brothers)?
If Walls Could Talk - Grant Goodeve
Yes, I recognize that "If Walls Could Talk" was not a decorating show, but since this is my rant and Grant Goodeve was on "Eight is Enough" and the original "If Walls Could Talk" which was amazing and I had a school-girl crush on him...but I digress.
Gardening by the Yard - Paul James
Everything I learned about gardening I learned from Paul.
Room Service, Sarah's House & Sarah's Cottage -
Sarah Richardson
Ok so outside of the Property Brothers (Noticed I have mentioned them a few times in this post), I have had very little assistance in terms of resources. There are very few programs out there. So for the past nine months of building this house I have relied on the following limited resources for design ideas:
Houzz
The Design Network
Pinterest
As I continue packing up boxes, all I can think of is... "Those Were the Days".
I have only named a few. What were some of your favorite decorating shows from "Back in the Day"?
xoxoxo
Paula
Thanks to all of you who partied with us last week. Please link-up and join us again. Remember, it's not a party without you!


Here are this Week's Features:
Don't Forget to Add a Feature Button!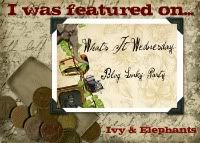 Come show off your whatchamacallits, what is its, what it once was, and "hey, look what I just did" posts. In other words, what you created, organized, designed or re-designed, found, purchased, transformed, inherited, re-purposed, renovated, are selling, or giving-away.